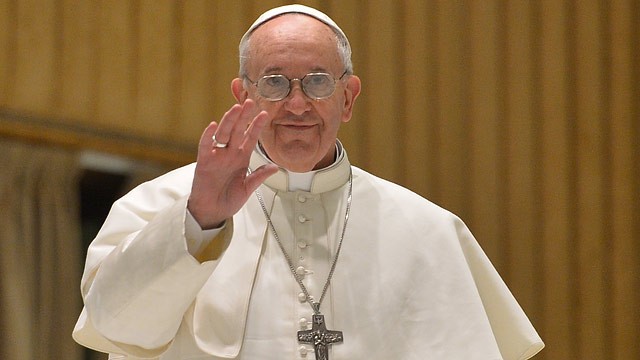 In his famous biography of St. Francis of Assisi, GKC's on-going metaphor is that the founder of the mendicants was more like the virtuoso of an artistic movement than the father of a religious order. His central image is that of Francis coming out the cave after receiving the Stigmata like an artist looking at the world upside down. So striking was this visual that Mumford & Son's decided to write a song about it. So striking was St. Francis' "artistic vision" that pilgrims, provinces, peoples and now Popes are righting wrongs according to it.
And indeed, with the election of Pope Francis, it has felt like our world has turn upside down. The Catholic Church, which one week ago was the object of annoyance to the every-man and a subject of scorn in the press, is now led by the "freshest," "simplest" and "warmest" of individuals. He asked Rome to pray over him. He spurs limos and greets parishioners at the door. He holds "story-time" in Paul VI Auditorium. He laughs at slightest provocation. He leaves flowers at side altars like "a pilgrim among pilgrims." And all this before he has even been installed as Bishop of Rome. The media (for the time being) has had nothing but nice things to say, even going out of their way to exonerate him from accusations that he was complacent during the Dirty War. News reporters smile confidently talking about the "Franciscan Reform" that has already begun. In short, Catholics went from being troglodytes to trendy all thanks to their new Pope. It matters not however long or short lived this perception in the press will last. All media perceptions are short lived in the grand scheme of things. I merely wish to highlight the contrast from how things were just seven days ago.
I would like to get back to St. Francis & Chesterton, though, because there is another part of this story that you will not find in newspapers or on TV. The press, for all their virtues, is ignoring the most profound part of Francis' papacy just as they always misunderstand the most profound heart of St. Francis of Assisi. For Francis did not "rebuild the Church" so as to appeal to the public forum. In fact, GKC dwells on this story in his biography because he believes that it is the key to understanding why St. Francis did what he did. When the son of Assisi rebuilt the church there, it angered the public forum greatly. Far from popularizing his cause, the outcry of the people almost ended it prematurely. Then, as legend has it, Francis stripped before the crowd, wrapped himself in the bishop's cope and claimed to belong entirely to the Church. St. Francis never saw himself as some outside reformer sent to rebuild the Church. He pictured himself in the very heart of the Church, surrounded by its splendor and apostolic tradition, yet simple and naked underneath it all. He saw himself as a faithful son doing chores for his Heavenly Father. I am certain that, regardless of public opinion, this is exactly how our new Pope Francis sees himself as well.
This is why I am excited: Francis sees himself as our brother. I chant his name, "Fran-ces-co," as if I were calling on a sibling. The Franciscans took the name "friar" from the Latin "Fray" for "brother" or "frater." The Franciscans were the first fraternity. They were the first "bros." Their strength came from inclusion and cohesion, not outside manipulation. When Pope Francis reforms the Curia (as he most certainly will) it will not be because it has become too fraternal. It is because, with its careerism & constriction  the Curia has not been fraternal enough. He will trim and prune the branches of our Church, both at the Vatican and the Church's other cities, according to the truer fraternity that he referenced in his opening address last week. From the porch of St. Peter's, our new Pope has called for a return to brotherly love. Rome is now a "philadelpia." Perhaps all Christians might start calling each other "brother" and "sister" upon Papal authority, the way Franciscans titled Brother Moon and Sister Sky on the authority of their founder. In any event, Pope Francis has inaugurated a new era in our Catholic Faith. What that new era will look like particularly is still anybody's guess. But, in general, it should be obvious that our new Pope has not come so much as to divide as to unite. He has seen that the rich comfortable Church, too close to the world and too intimidated by its voices, was a Church upside down. In calling for a poor, simple, fraternal Church, he has flipped us right-side up again.